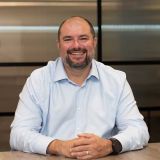 Steve Purvis , Managing Director – Warehousing
The correct location for your warehouse is crucial for manufacturers, distributors, and retailers. Whether dealing with peak periods or facilitating a constant stream of online orders, they need stock in the right place at the right time. With that in mind, certain parts of the UK have become more popular – with the 'Golden Triangle' region, particularly sought-after.
In recent years, however, retailers have started to look further afield. In this post, we discuss the value of the logistics' Golden Triangle 'versus other emerging regions and whether things could be changing.
What is the Golden Triangle?
The Golden Triangle refers to an area of the East Midlands that has become renowned for its high density of distribution facilities and being home to the biggest names in retail. Spanning the space between the M1, M6 and M42 motorways, going as far west as Birmingham and stretching as far north as Nottingham, this vast area is considered prime real estate. There is an estimated 150 million square feet of warehouse space in the Midlands – more than in Greater London, Scotland and Wales combined.
Marks and Spencer's £200m fulfilment centre at Castle Donington overshadows many sites in the Midlands at almost one million square feet in size. A bit further south at Magna Park is home to Disney and Asda, whilst Tesco has a massive operation at Daventry International Rail Freight Terminal (DIRFT). Leading 3PLs, couriers and manufacturers have invested heavily in the area over recent years, meaning there is a significant take-up of new logistics facilities, and competition is high.
Why is the Golden Triangle Sought After?
Locating a distribution centre within this area ensures businesses can enjoy easy access to the major motorways, ports, railways and airports, enabling deliveries to reach over 90% of the UK population within four hours. Naturally, that is a huge advantage to companies who ship or distribute products and want to remain competitive in today's market.
With the growth of omnichannel retail and heightened demands placed upon retailers, delivering products as quickly as possible has become even more critical to maintain a competitive edge. Next Day is no longer fast enough, with the likes of Amazon, Argos, and Next all now offering Same Day delivery, and having the capability to replenish stores more rapidly allows stores to maximise sales and focus on the customer experience.
Are Things Changing?
High demand doesn't come without its consequences. This prime stretch of land has become almost saturated with warehouses. Demand for this location has also seen rent prices increase by over 2.8% in Q1 of 2018, and with labour and energy prices also becoming a real issue, there are now more hurdles to overcome than ever when investing in the region.
These factors could have led several companies to look elsewhere in the UK for prime warehousing locations. Is focusing distribution activity in this region still a financially viable option?
New data from Savills demonstrates that the Golden Triangle is slowly losing its unchallenged status as the go-to location for big sheds as online retail is reshaping the geography of the commercial property market. To establish a quicker and more efficient delivery service to stores and customers, firms are now focusing on developing their final mile delivery centres closer to other major population centres.
Amazon has recently announced plans for two new warehouses in the East and North West of England; Savills figures show Amazon took 4 million sqft in 2017 — 82% of that was outside the Midlands. Lidl is also hot on their heels, taking new warehouses near Bristol and, more recently, in Leeds.
Another area of interest surrounds the M40, where several major brands have taken units. While we consider the M1 the king of logistics, over the past five years, The Entertainer, Aston Martin, Hello Fresh, Amethyst and Kärcher have all chosen the M40 corridor as their location.
Why? In short, it avoids most of the issues associated with the high demand of the Golden Triangle and the M1 mentioned above.
The M40 has comparatively low congestion, with an average of 17% fewer vehicles using the M40 than the M1. The M40 also provides easy access to central London via a direct route to the A40 or a transfer to the M4. With over 600,000 vehicles passing through the M40 per day, it certainly has accessibility, and with 75% of the UK population reachable in four hours, it does pose intense competition. In addition, the area has seen substantial investment in new housing developments, resulting in a potential abundance of workers.
The M62 corridor in the North West of England is also seeing a great deal of investment, along with the areas surrounding Glasgow Prestwick Airport – as the location will pioneer off-site manufacturing to help build an expanded Heathrow.
The Golden Triangle: Competition Within the Midlands
Despite these growing trends, the Midlands is still considered the hotspot for UK logistics. According to Savills, 41% of warehouse space transacted in 2017 was in this region – an exciting figure demonstrating that although the Golden Triangle remains essential, we're now seeing blurring around the edges.
The West Midlands gained 5.86 million square feet of warehouse space in 2017, compared to 4.24 million for the East Midlands. It was the first year the West had a higher uptake.
Despite the Golden Triangle being the most desirable location for businesses, the added demand and premium cost are causing it to stretch and expand. While much larger companies like Amazon are moving further afield with multiple mid-size warehouses to accommodate the growing demand for their products nationwide, it still makes sense for most companies to hold more important sites in or around the Midlands for now.
Finding the Best Location
With the industry changing rapidly and consumer demand for an increasingly efficient service, businesses need to manage their warehouse network and promptly assess the best locations for their sites. And there are several factors to consider – from transport times and rent costs to the availability of both warehouse space and the workforce.
Visku is based in Northampton, the heart of the Golden Triangle. We have developed a wide-reaching network of suppliers and customers. This enables us to access space not commonly available on sites across the UK.
Using our established network, we help our clients quickly source the additional warehouse space and operational services they need, wherever their preferred location is.
If you would like to discuss expanding your warehousing portfolio, please don't hesitate to contact one of our team.
Contributors