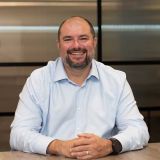 Steve Purvis , Managing Director – Warehousing
The UK's industrial sector is booming, with Britain's factories experiencing the longest period of expansion for over twenty years. Great news! But there is a downside. Namely, a warehousing crisis.The availability of warehouse space has fallen by 71% in the last 8 years, according to Savills. Why? Government subsidies make it much more attractive to build housing, especially in urban areas.
At the same time, we're seeing an increasing demand for quicker delivery. A massive 67% of shoppers said they would spend more online if there was an option for same-day delivery, with 52% saying same-day delivery was a deal-breaker when it comes to choosing between retailers. This is driving a demand for warehousing and distribution centres ever closer to the main areas of demand – precisely where available premises are scarcest. As a result, businesses are having to think outside the box when it comes to finding (or creating) warehouse space in urban areas.
Read on as we explore the concept of underground warehousing, and whether it is the right solution for the warehousing crisis.
What is underground warehousing?
Don't worry – underground warehousing isn't some sort of undercover operation. It literally refers to warehouse space situated beneath the ground. And, no, those images you've conjured up of a cave-like environment aren't accurate. Underground warehouses are kitted out in much the same way as regular warehouses, and many are able to hold the levels of technology required of some the most advanced supply chains. They're also thought to be more environmentally friendly, as it's much easier to keep temperatures stable.
The idea is particularly popular in Kansas City, where an estimated 10% of commercial space is underground. That's thanks to SubTropolis – a manmade limestone mining cave sized at over 5 million square metres. It's the largest underground storage space in the world, with 7 miles worth of paved and illuminated roads allowing easy access to occupied spaces.
The advantages of going underground
Kansas City's example highlights one of the main benefits of underground warehousing – cost. Underground space is reportedly around $0.50 cheaper per square foot than the $4 average above ground in Kansas City. It's no wonder US companies are looking to double the amount of available underground space.
But it's not just the US who are taking advantage of this underground opportunity. Commercial document storage company, Deepstore, uses a 200 million m³ salt mine in Cheshire to store over 36 linear km of records for the National Archives. Due to the unique environments, the sites are able to provide a range of services free from vermin, flooding and UV light by utilising pre-existing space – it's the more sustainable option. In both of these cases, availability is growing, as limestone and salt are still being mined, creating even more space.
Underground is on the up
It's rising in popularity too. Recently, plans have been approved to create a 175,000-square metre underground logistics space by Heathrow Airport. After the initial development plan was rejected in 2013 after environmental concerns, the development will be completed in phases using a construction method called sealed top-down construction, which is normally used in city centre developments. Works would take place beneath a reinforced concrete slab, with landscaping on top to make the area suitable for the surrounding towns. There's clearly a market for space in this location, as it's essentially impossible to find a new site in and around London and the M25. Savills estimate that around 50 new occupiers are looking for space in excess of 500,000 sq. ft. in the area.
Even more innovative, Amazon filed a patent this year for underwater warehouses. Their online marketplace offers wide variety of items to customers, requiring increasingly complex facilities that are able to accommodate new and improved technology. The multi-national company plans to store products in watertight packaging under lakes, reservoirs or even the sea. Blasts of sound would send acoustic vibrations to make packages rise to the surface. Bringing the item to the individual would save the business time, and space.
Is this necessary?
There's no doubt that the warehousing market in the UK is facing some serious challenges. However, it may not be necessary to throw money at new, underground developments. While extra warehouse space for your company may be hard to come by, there are still many businesses sitting on unused space within their commercial property.
Companies are often locked into long-term contracts for commercial properties. That means, if business declines or they change their supply chain process, they're unable to switch to a more suitable facility. They're left with unused space for potentially long periods of time, while other businesses are searching for that kind of space.
Unlocking unused warehouse space
At Visku we aim to create a link between companies with excess space, and those looking for additional facilities. Our extensive network provides flexibility to clients, helping them to reduce costs and gain a competitive advantage within their industry. If you've got any queries about warehousing for your business, feel free to get in touch – our team would love to hear from you.
Contributors