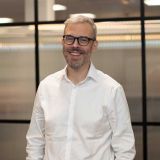 Neil Adcock , Managing Director – Consulting
Automation has become increasingly engaged by businesses in the supply chain & logistics industry to reduce reliance on labour resources. Often anticipated as a direct replacement, it has been introduced and applied as a like for like solution, but is that really the most efficient approach?
Warehouse material flows have traditionally been established as a linear series of processing points and hand-offs, like manufacturing processes. Moving inventory into, within and out of a warehouse follows a recognised course – Inbound -> Receipt -> Putaway -> Pick -> Pack -> Despatch.
This system of processing initially operated against the retail profile, with large volume movements aligning to structured schedules and destinations. However, progress has challenged that model with increased channels of services to the point of sale, introducing changes into the flow of material through the warehouse, thus requiring greater agility and flexibility in a 'Many to Many' mix of products [total inventory] to individual order solutions.
Engineering implemented in initial designs followed this direction, with grouped product handling against defined ordering mechanisms. This involved prominent structures with point-to-point linear flow. Automation solutions such as ASRS, mini-loads, tote handling, shuttles and sorters were engaged to facilitate processes, typically "slotted" into this warehouse material flow. Replacing manual handling with engineering components to automate activity.
A focus around 'Pick Performance' as the key benefit in reducing labour requirements has been intrinsic to solution design, with supporting processes being modelled to interact at the correct engineered criteria, the combination of which has resulted in complex engineered solutions to resolve the challenges of product handling.
This approach has not challenged the linear nature of the material flow through the warehouse, potentially limiting the flexibility of the solution to deal with profiles of activity outside of the retail model. Systemic and physical workarounds have been introduced to bypass this constraint, sometimes leading to proliferation of process. Principally, generating supplementary areas, for inventory that meet certain conditions and often incur additional material handling. Engineering complexity is usually the result containing reduced efficiency and even additional increases in labour to accommodate.
Market changes introduced greater activity around Ecom, digital channels which influenced the specification and requirements of engineering to become more agile and flexible as a primary function. This may not always lead to an increase in speed of activity but rather a focus on enhanced efficiency. Product handling outside of the pick process can often place demands for operations to overcome.
Robotics has developed in parallel to long-established automation, alongside these market changes. The arrival of Autonomous mobile robot [AMR's], multi-directional movement, enhanced with systems intelligence, have expanded their use-case within traditional warehousing.
Acceleration in systems intelligence, combined with AMR capability, has become the disruptor for systems of linear material flow. Orchestration strategy can establish the right inventory in the right place, at the right time; resulting in improved efficient handling to meet necessary operational requirements.
When clients choose to deploy automation as a business solution it is extremely important to start in the right place. Clear understanding of the business requirements will ascertain the right type of engineering is chosen. Astute insights of the automation market combined with understanding of supply chain & logistics, supports a unique innovative awareness. Increasing, the likelihood of a functional solution that delivers expectations and promotes their business case positively.
This article was featured in the May/June edition of the UK Warehousing Association Warehouse magazine on page 23, in the specialist editorial feature 'Automation and Robotics driving value in the Supply Chain'.
Contributors