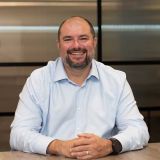 Steve Purvis , Managing Director – Warehousing
A report published this month by the global commercial real estate services firm Cushman & Wakefield reveals a rapid increase in the take-up of industrial space across key European markets, including the UK, last year. A 28% rise in take-up, to 9.6 million sq m, is a significant increase on pre-pandemic levels, which were already rising steadily, and also contrasts with a 4% decline in overall logistics and industrial space.
The principal driver, according to C&W, is the growing trend towards near-sourcing (of bought in materials, parts and products) and near- or re-shoring (of manufacturers' own operations), to locations closer to consumer markets. This shift in manufacturing locations will also feed rapidly into the warehousing space market, changing both preferred locations and the nature of the space required.
The proximate causes are of course the fall-out from Covid, the Ukrainian war, and heightened geo-political tensions, especially but not exclusively with China. But in fact, at Visku, where we help business find flexible, short-term warehouse space, we had noticed that many firms were at least considering near-shoring strategies well before the pandemic. Structural changes to supply chains introduce many unknowns, along with, of course, risk. And flexible, short-term arrangements on storage space can help mitigate some of those risks.
There is a complex interplay of factors, some proactive and some more defensive. The sequence of 'black swan' events in global supply chains – not just war and pandemic, but Japanese tsunamis and vessels going sideways in the Suez Canal – have undoubtedly focused business minds on the costs and risks of extended supply chains. On the positive side businesses are seeking improved speed to market, to offer consumers ever-shorter lead times and higher levels of availability across increasingly customised and individualised product ranges, both flexibly – because consumer demand is now so rapidly changeable – and sustainably – because, not always correctly, consumers see global supply chains as bad for society and the planet. That in turn is driving businesses to remould supply chains so that they can be seen to enjoy greater levels of oversight and control.
Another factor which was already active pre-pandemic is that of cost. China in particular, and to a lesser extent other popular offshore manufacturing locations in Asia and elsewhere, no longer enjoy their old labour cost advantages, and this is even more true as manufacturing implements ever more robotics and automation. As Tim Crighton, Head of Logistics & Industrial EMEA at C&W, comments: "The cost of a robot for production is broadly the same around the world. The return on investment is therefore quicker and more attractive in some of the traditionally higher cost labour markets like Western Europe".
Political factors, of course, are also in play. The EU is easing rules on subsidies and state aid to encourage reshoring, to achieve economic, environmental and social goals as well as to compete with US incentives in the misleadingly named Inflation Reduction Act. And in the UK, responses to Brexit complications, and to new free trade deals, will work through.
What does this mean for the warehousing space market? Firstly, increasing demand from manufacturers, who may be able to support higher rents, may tend to squeeze out low-profit warehouse operations from the available space.
Second, to meet the flexibility and speed to market criteria, there is likely to be a continuing trend towards 'postponement' – carrying out final assembly and configuration at the distribution centre in response to firm demand, rather than at the factory for stock. The demand for warehouse space that can efficiently support quasi-manufacturing operations and workforce will therefore increase, at the expense of 'basic sheds'. By contrast, shorter and more responsive supply chains may reduce the space requirements for parts and materials stocks.
In terms of location, it is conceivable that greater sourcing from the near-abroad (the EU, perhaps North Africa) will over time encourage the use of smaller vessels and second-rank, cheaper and less congested ports, rather than everything arriving from Asia into Felixstowe or Southampton, and that may encourage a wider distribution of 'quayside' warehouse and logistics facilities.
But redirecting a supply chain is even slower than steering a ULCV. New suppliers have their own learning curves, and bring their own risks, whether they are in Beijing or Birmingham. Companies will typically mitigate risk by dual-sourcing over a, possibly extended, changeover period. That may tend to increase the amount of inventory in the system, and hence the need for additional temporary warehouse space. A re-shored manufacturing facility will of course require its own new warehousing infrastructure for inputs, while at least parts of the distribution network may also need to be reconfigured. As different supply and manufacturing elements are worked on, warehousing and distribution may go through several evolutions, all possibly requiring some element of short-term space.
So, any business contemplating nearshoring and near-sourcing strategies, which can be quite high risk, and won't necessarily work perfectly out of the box, will benefit from the assurance that they can access short term space to accommodate changing locations, operations and volumes, whether planned or unplanned.
Visku helps businesses plan and find the flexible space they need.
Get in touch
If you'd like to learn more contact us and our warehouse solutions experts will be in touch.
Enquire now
Contributors