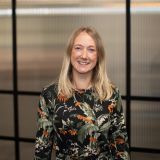 Louisa Hosegood , Strategy and Transformation Director
Business group Logistics UK recently strengthened its Board with the appointment of three new directors, including the current Strategy and Transformation Director for Visku, Louisa Hosegood.
Together with Simon Hobbs and Gavin Murdoch, Louisa joins the Board to help guide the business as it continues to lead the logistics industry in its post-pandemic recovery, as well as establishing itself as a top three business group with government and other stakeholders.
On news of the appointment, Louisa shared she was "excited to be part of an important phase of growth for Logistics UK and I believe this appointment will help amplify their voice across government and the supply chain and logistics industry, at a time when the views and insights of its membership have never been more vital than now to be heard." She adds "This is an industry navigating the currents of change in an increasingly challenging post-pandemic world, and it is my privilege to lend my experience and commercial perspective to an organisation that is passionate about giving a voice to our industry, knowing how critical a part it can play in boosting the economic growth of our nation."
We're pleased to sit down with Louisa to discuss the news as well as a better understanding of the challenges facing the logistics industry in 2023 and beyond.
What skills and insights do you think you'll carry over to the Board table at Logistics UK?
Louisa: I've gained experience across a wide range of complex business environments, cultivating years of insight within manufacturing, retail and finance, and that means I can offer a fresh and unique perspective at Board meetings. Whether that's challenging established ways of thinking, proposing and influencing new methods and strategies, facilitating access to a broader and more diverse member voice, I will be bringing my energy to the table to enable Logistics UK to always be part of the most important conversations in both Whitehall and with senior stakeholders in industry.
As we kick off 2023, what do you think are some of the most significant challenges currently facing the post-pandemic logistics industry?
Louisa: Front of mind is of course the prevalent cost pressures, impacting both customers and businesses alike. Continuing global volatility and political unrest of creating huge supply chain pressures – impacting the physical supply of goods and services, but also leading to massive uncertainty about future trading and customer behaviours. Supply chains must hold their nerve in a climate with so many competing variables, and find new ways to respond and flex.
These issues, though undoubtably challenging, are still short term in nature. Sustainability, far beyond the green agenda, needs more focus than is currently being afforded – environmentally conscious, commercially sustainable, business models that are fit for the future and balance social responsibility with consumer demands. Furthermore, a huge challenge facing the logistics sector is the future of our workforce and our leaders – how do we attract and retain talent into our growing and vital industry at a time of dwindling labour pools and the draw of more "attractive" career paths?
What's the one skill you think you've harnessed for the benefit of customers during your time as Strategy and Transformation Director for Visku?
Louisa: I think it's my ability to really put myself into the shoes of the customer, understanding the true nature of their challenge or opportunity. That allows me to explore with them the variety of options, alternatives and thought processes they may not have previously considered. And finally to translate into a pragmatic course of action, guiding them closer to the solutions they're looking for.
Are you looking forward to joining the other board members?
Louisa: It will be fascinating to join a group of smart and insightful individuals who bring with them a rich history of stories and experiences from different walks of life and commercial backgrounds. There's an exciting future ahead for Logistics UK and I look forward to being a part of making a real difference.
Contributors